InfusionPoints prominently featured at HPE Discover 2017
InfusionPoints was prominently featured at HPE Discover 2017 last week. HPE Discover, the flagship event for Hewlett Packard Enterprise, was held this year from June 6th to June 8th in Las Vegas, NV.
On Tuesday evening, HPE unveiled its Gen10 Server, "The world's most secure industry standard server" as claimed by HPE and backed up by InfusionPoints' hardware testing services.
HPE is the first vendor to put silicon-based security into its industry standard servers, addressing firmware attacks, which are one of the biggest threats facing enterprises and governments today.
InfusionPoints' CTO, Jason Shropshire spoke onstage during a spotlight session Wednesday with Industry Analyst Patrick Moorhead and FBI Security Scientist James Morrison on the state of datacenter security, and HPE's Gen10 Security features.
InfusionPoints' Chief Security Scientist, Adam Byers also presented Wednesday afternoon with more details on the Gen10 Hardware Security Assessment and Comparative Analysis conducted by InfusionPoints.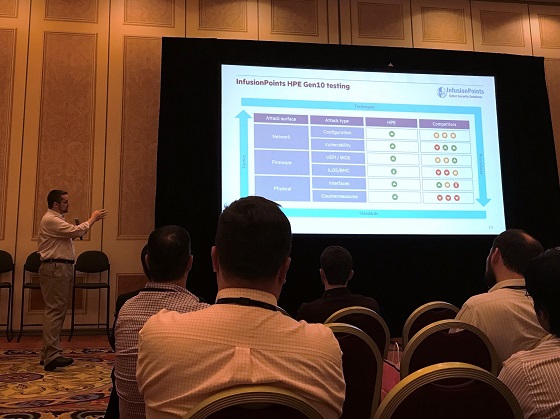 Finally on Thursday InfusionPoints' CTO Jason Shropshire Joined HPE's Bob Moore in theCube for an interview on the new Gen10 server announcement. All in all, it was a productive week for InfusionPoints. We are grateful for HPE's dedication to the security of its products and for allowing InfusionPoints to have a role in conducting the independent testing and analysis.