InfusionPoints is currently on GSA IT Schedule 70 under Contract Number: 47QTCA21D005Q
The General Services Administration's IT Schedule 70 is the government's go-to source for IT acquisitions and is broadly recognized for its benefits of cost savings, time savings, selection, and built-in value. IT Schedule 70 is organizationally positioned under GSA's Federal Acquisition Service (FAS) and Office of Integrated Technology Services (ITS).
SINS:
518210C -Cloud and Cloud-Related IT Professional Services
Includes commercially available cloud computing services such as Infrastructure as a Service (IaaS), Platform as a Service (PaaS), and Software as a Service (SaaS) and emerging cloud services. IT professional services that are focused on providing the types of services that support the Government's adoption of, migration to or governance/management of Cloud computing. Specific labor categories and/or fixed price solutions (e.g. migration services, etc.) that support activities associated with assessing Cloud solutions, refactoring workloads for Cloud solutions, migrating legacy or other systems to Cloud solutions, providing management/governance of Cloud solutions, DevOps, developing cloud native applications or other Cloud oriented activities. NOTE: Subject to Cooperative Purchasing
541519ICAM: Identity, Credentialing and Access Management (ICAM)
Managed service offerings for electronic credentials (assurance levels IAL, AAL, and FAL), identity and access management, authentication, and identity and access management professional services. NOTE: Subject to Cooperative Purchasing
Includes a wide range of fields such as, the seven-step Risk Management Framework services, information assurance, virus detection, network management, situational awareness and incident response, secure web hosting, and backup, security services and, Security Operations Center (SOC) services. HACS vendors are cataloged under the 5 subcategories of High Value Asset Assessments; Risk and Vulnerability Assessments, Cyber Hunt, Incident Response, and Penetration Testing. NOTE: Subject to Cooperative Purchasing
54141S: Information Technology Professional Services
IT Professional Services and/or labor categories for database planning and design; systems analysis, integration, and design; programming, conversion and implementation support; network services, data/records management, and testing. NOTE: Subject to Cooperative Purchasing
About USETPA from their Website:
"The USETPA is an alliance that was formed to leverage the purchasing power of schools, libraries and public entities. We have created pre-bid convenience contracts which have all been let on a not to exceed price basis. This means that every item purchased receives a discount while larger and aggregated orders may receive additional discounts. This is particularly powerful when combined with our reverse auction portal."
Veteran-Owned Small Business
Veteran Owned Small Business (VOSB) is a company diversity registration designated under the Veteran Benefits, Health Care, and Information Technology Act of 2006 (Public Law 109-461). Registration ensures that companies qualify for preferential procurement for federal contracts if they are owned and controlled by Veterans.
Read the blog about Gary Daemer, our CEO, and how he served our country, HERE.
InfusionPoints is located in North Wilkesboro, NC and has been able to provide professional cybersecurity solutions to the Federal Government utilizing our VOSB status.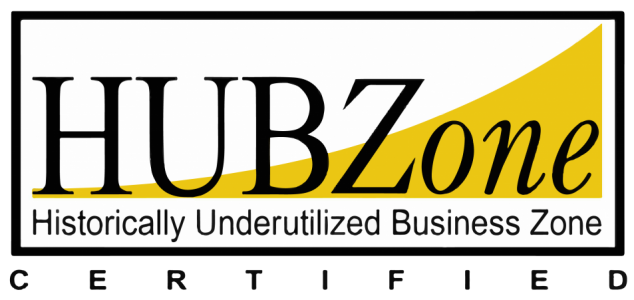 HUBZone
The Historically Underutilized Business Zones (HUBZone) program helps small businesses in urban and rural communities gain preferential access to federal procurement opportunities.
The federal government has a goal of awarding at least 3% of all dollars for federal prime contracts to HUBZone certified companies.
InfusionPoints currently has 34% of its employees in a HUBZone.
HUBZone areas utilized are in:
North Carolina
Washington.
Link to community outreach page can be found HERE.